Frankies New York Italian Restaurant
on Melrose
7228 Melrose Avenue
Hollywood, Ca 90038
Mon-Sat 12pm-12am
Sunday 5-10pm
323-937-2801

NOW OPEN!
Frankies New York Italian Restaurant
at Bridgeport Marketplace
24025 Newhall Ranch Road
Valencia, Ca. 91355
Mon-Sun 11am - 12am
661-799-8888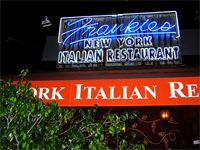 For Frank Competelli, family and kitchen are the heart and soul of the Italian dining experience. Now in its 20th year at its Melrose location, Frankie and his family give you the feeling that you are dining at his home, not a restaurant. Being a New York transplant, he knows how much ex-New Yorkers miss their hometown, especially when it comes to food. So when you arrive at Frankie's and the doors close behind you, you'll instantly feel the New York state of mind. He'll cook all your favorites, especially the ones that you miss so much. Frankie's Maine lobster fra diablo is as good as that of Gratto Aszoro, the restaurant that made the dish famous.Frankie's also features calamari, scungilli and baked clams alla Vincent. Their pastas, broccoli rabe, sausage and peppers are so good, you'll think you're in Little Italy. Frankie's eggplant or veal parmigiana is prepared the same way his grandmother made it for him when he was a little boy—it's to die for. And the great steaks and chops are just like at Brooklyn's Peter Lugers Steak House. Enjoy a cocktail from their full-service bar. Top it all off with espresso and cannoli. Dine as late as you wish at Frankie's (their kitchen is open until midnight), where you won't miss New York as much.